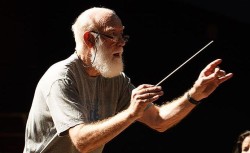 On December 5, 2015 the Liturgi-Kal Choir performed a special concert at Christ Church in Jerusalem, presenting as a part of the repertoire two new choral works. We spoke with David Loden, the founder, composer and conductor of the choir, to hear not only about the music, but also the thoughts, feelings and work behind the music.
It is safe to say that there are only a few believers in Israel who have not heard of David Loden and the way God has used him. Yet even those that do know of him may be surprised at his biography.
David began composing music in classical-liturgical style already at the age of 10. At 16 he conducted a choir, went through vocal training at a high professional level, and went on to perform in 29 operas. Perhaps the most interesting fact, however, is that he is the only composer or musician in his family.
It comes as no surprise that David sees musical composition as a part of his identity. His life has been dedicated to music and fulfilling the gift he has been given, and all this to honor God and bless Israel. One step David took in carrying out his calling was the founding of the non-profit production association "Kamti", whose goal is to present concerts of classical and liturgical music, primarily in Hebrew, at a high standard of excellence for the Israeli concert going public. This organization is founded on spiritual principles of the Scriptures, prayer and faith in Yeshua.
The flagship project of Kamti is the "Liturgi-Kal" Choir, which performs known works or original compositions by David and others. The choir performs several times a year. "The main purpose of our activity," David says, "is to return to Israel the understanding that prayer, art and the Scriptures are part of Israel's heritage." For this reason the majority of the works are in Hebrew, performed on a professional level and  made accessible to as many as possible.
During the last concert David and the choir presented two new works that he composed – Psalm 23 and Psalm 87. "The process of musical composition is complex and personal," David shares. "My inspiration always comes from scripture. I love to compose to Biblical texts. Generally I start with a text, am inspired with a central idea, compose the core part, which from there it develops in stages to the final work."
In addition to the two new works performed, there was another unique aspect to the concert. David shares, "At this stage of my life, being past 80, I decided to give a gift to the Body of Messiah in Israel in the form of a concert. I wanted to give something of myself and bless the believers. Generally we direct our work toward a broad Israeli audience, but this time the focus was truly on our brothers and sisters in Messiah."
In order to prepare for this concert, David and his choir rehearsed on a weekly basis for several months, all of which requires patience and dedication. "Not all in the choir are musical professionals", David says, "but we perform to the best of our ability and provide quality music and performances on a high level artistically, despite all the challenges."
Imagine the challenges in bringing together musicians with different levels of skill, both believers and not, learning the texts and the music, and all this in a shortly defined time period. "The experience is very dependent on the people you are working with, and I'm pleased to be able to work with amazing people," David states.
There were no empty seats at Christ Church for this special concert. All who came to listen to these creative works can testify to the beauty and the blessing that it was. The many positive responses warmed David's heart. "People came to me to share that the music opened up the scriptures in way that they had not thought of previously, and that is exactly my goal. It was a difficult work organizing everything, but I would definitely do it again."
In closing, David would like to take the opportunity of this interview to thank his audience: "We do our work out of a sense of calling. We have been called to do this for Israel. Yet few are interested these days in classical music, particularly with a spiritual content. Thus I would like to thank all those who helped us fulfill the vision. You are important and have a great impact as an audience, and we thank you for your  encouragement."
The next concert, a benefit for Syrian refugees, is planned for January 8 at the Scottish Church in Jerusalem. In addition, David tells us that there is a new work in progress. There is more to look forward to. God is truly at work.