On January 25, 2016 David Davis, the Founding Pastor of Kehilat HaCarmel in Haifa underwent surgery to have a cancerous tumor removed from his neck. Click here to read the initial article about Pastor Davis' surgery.
Karen, Pastor Davis' wife, shares the latest update and request for prayer.
Thank you so much for your continued prayers which are sustaining us through this very challenging time. David and I are still here at Oasis of Hope Hospital in Mexico. Sadly, we have not yet been able to return home to Israel, as originally hoped. A few days after the successful surgery, David was extremely weak and also became very disoriented, which has intensified in the last couple of days. The doctors are now trying to determine the cause, possibly a reaction to some medications. Please pray for this attack to be broken, for wisdom for the doctors, and that David will be strong enough so that we can safely return home soon.
February 5 was David's 78th birthday.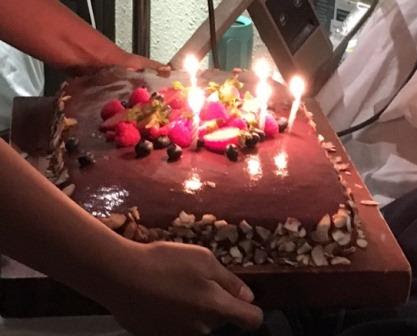 The wonderful kitchen staff baked him an amazing all-organic, chocolate cake with fresh strawberries and blueberries on top!! We are immensely grateful to be in this place so filled with the love of God!