Yevgeniy Shavkov had a surprise announcement at our last service at Nachalat Yeshua (Yeshua's Inheritance Congregation):  he was going to be appearing on the popular TV program, "Undercover Boss" that evening.  The focus of the episode would be the Israel Electric Co., which, according to the latest surveys, is the best company to work for in the country. 
Featuring four Electric company employees, this episode was put together about a year ago.  Yevgeniy and other featured employees were obliged to keep it a secret until the day of the showing.  So it was with curiosity that we sat down to watch Saturday night at 9pm, not knowing exactly what to expect. 
The program's premise is that many people think that large corporation upper-management are out-of-touch with their own lower-level workers in the demands of their work and the wages they earn. (The wage gap keeps growing wider in Israel.)  The idea is that the Director, or other such top-level corporate head, would disguise himself from being recognized – both facially and by name – and show up as if for some "reality" show, not connected at all with their own company.  The Director then works alongside employees in his company in different areas of operation, as if he were "one of them".  Customer Relations is Yevgeniy's department; he answers all kinds of calls from customers with requests about their bills, etc., all the way to registering complaints.
Yevgeniy is a young man (under 30), and was the youngest of those presented on the program.  They showed him at his desk on the phone and computer with customers.  "Israel" was the one he was explaining his work to, but who in fact was the Chairman of the Board of the entire Israel Electric Co., Yiftach Ron-Tal, in undercover disguise!  He was explaining his work in detail because "Israel" was there to learn the job, and to give it a try with Yevgeniy's assistance.
The undercover boss asked Yevgeniy about his background and life, which brought out some of the hardships he has had to cope with and overcome.  It came out in conversation that Yevgeniy is the oldest child of four. His father went back to Ukraine, leaving his mother to raise four children when Yevgeniy was a young teenager.   A health condition required chemo therapy which left her limited as to the type of work she can do.  He explained to the "new worker" that he has helped his mother raise his three siblings who are now 14, 9, and 7.  He said he was seriously considering what to do with his life and what studies to approach, and that currently his salary goes to helping his mom and the household.
The Chairman was extremely impressed with Yevgeniy's compassionate way in dealing with customers on the phone, who would speak of their difficulty financially in their families.  The "new worker" asked more about Yevgeniy's background and heard of a time that was so financially hard that the family could only buy electricity in units from a card. 
The calls kept coming in and Yevgeniy let this "new worker" take a call.  The customer mentioned that he had been in jail, so "Israel" asked why and what for.  After the call, Yevgeniy gently explained that in taking calls one isn't allowed to inquire into personal things such as that, since the Electric Co. is a public corporation, and it's required and better to respect people's privacy.  The CEO took the gentle guidance very well.
The height of the program was when the employees were called into Chairman Yiftach Ron-Tal's office in Tel Aviv (where he met with each of the four chosen employees separately) and the ruse was revealed.  (Yevgeniy told us that when the four got summoned to the office, they were told that they were going to meet the host of the show and give him the opinion and the score that "Israel" deserved.  It turned to be a big surprise when they realized that who was going to get scored was them!)  The CEO cited how impressed he was with Yevgeniy's maturity, professionalism, sense of responsibility and compassion, and predicted that one day he certainly would be a manager of some sort.  He explained that a decision had been made by the Board of Directors: the Electric Company would pay all tuition toward a degree in whatever type of engineering that Yevgeniy chose to study!
Included, too, in the program was Yevgeniy calling his mother and telling her the news.  It was a very moving moment, especially as she was heard saying, "HalleluYah", and crying.
In a post-program interview (not shown on TV), Yevgeniy was very impressed also with the Chairman.  He said that he was not only The Boss, but a genuine human being, with compassion and the ability to really encourage Yevgeniy in his work and life.  Yevgeniy is preparing to take the necessary entrance exams now in order to be accepted into the Engineering program for the coming school year at Ben-Gurion University of the Negev in Beer Sheva.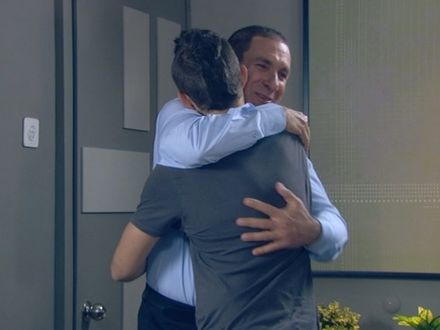 We have known Yevgeniy, and his mother and siblings, for such a long time and have gone through many experiences with them.  They are a very special family with God's grace so apparent as they together have persevered and dedicated their ways to Yeshua.  Yevgeniy has been a very important part in providing stability and guidance to his siblings, and has been a valued part of the congregation.  He's nearly always there helping with the power-point, and has the same gentle way of handling things.  This was such a pleasure to see him interact with his "Boss" and receive such recognition and reward for his good work!  We are all rejoicing and thanking the real "Boss" in Heaven, as well as this very special CEO, Yiftach Ron-Tal. The other employees who were highlighted also carried their work out admirably while dealing with real difficulties in life.  Each one was similarly recognized and rewarded in ways that would really help them.  The program was a very special window into God's grace working here in Israel at many levels!
---
Proverbs 22:29  Do you see a man skillful in his work? He will stand before kings; he will not stand before obscure men.
---
Here are the links in Hebrew to watch the show and to read an interview with Yevgeniy.
http://reshet.tv/Shows/UndercoverBoss/videomarklist,239974/